Bhartiairtel, the country's largest integrated telecom operator with more than 175 mn mobile subscribers and sizeable fixedline and broadband user base, is the leader in the Indian telecom space. The company's entry to Africa in 2010 with operations in 16 countries in that continent also makes it the fifth largest telecom opera-tor (in terms of user base) in the world. The Sunil Bharti Mittal-led telecom behemoth also offers broadband on DSL, IPTV, dedicated enterprise services and a plethora of value added services including mobile money, mobile health, etc, besides offering regular mobile and fixedline telecom services.

Without any glitch, Bharti is perhaps the only Indian telecom company which has been seen in the world arena as an example to look at and its business model is being discussed at various boardrooms for emulation. Offering mobile services on GSM mode in all the 22 circles in the country, the company last year also got the approval to offer 3G services in 13 circles and is also seen to become the first operator to launch broadband wireless access on TD LTE technology in the country in the near term.
The company also has a separate arm for its infrastructure or tower business with more than 30,000 telecom towers, besides having a major share in Indus Towers, an independent tower company, comprised of telecom infrastructure from Idea Cellular and Vodafone. The company offers ILD and NLD services too, making it a complete integrated telecom firm, as per books. The company also commands a leadership market share, both in terms of volume and revenue, in the Indian telecom business.
No Longer Rosy
However things are no more that rosy as it looks from outside. The company is bleeding, both in its domestic and inter-national operations, and in most of its business areas. The company has posted a dip in its net profit for seven quarters in a row and that has raised some eyebrows in the industry and analyst fraternity.
"There's a deep sense of tension and frustration inside the company," says a senior executive of a consultancy firm, who works closely with Bharti. The executive, who is working alongwith the top management of Bharti, on the condition of anonymity, says that Bharti's 1st phase of growth is over and the 2nd phase of the story would be tougher than ever.
"Bharti board of management needs to think something very disruptive, maybe it needs to bring back ManojKohli to look after India operations," he adds. After all, Bharti's success story would be more dependent on its India operations than global. But GirishTrivedi, founder, Monk Consulting has a different take on this. "Bharti is a great firm. The top bosses are the same. But yes, the business is no more voice centric and one needs to embrace a different approach for data centric services. Bharti might look at someone from outside," says Trivedi.
The Killing Field
No doubt, what kills Bharti inside now is the gradual and consistent fall in its net profit for almost two financial years at a go, and when? The dip in its net income pinches more when the company has already spent more than $10 bn in acquiring Zain's Africa operations and coughed up more than $3 bn for acquiring 3G and BWA licenses to offer next generation telecom services in the country. In June 2010, Bharti completed the $10.7 bnZain acquisition deal for which both the companies had entered into an agreement in March the same year. During the process, Bharti announced its 4th quarter results for 2010.
It had reported consolidated net profit of '2,055.1 crore as against '2,209.8 crore, de-growth of 7% on q-o-q basis as per US GAAP. However the revenues rose 2.9% to '10,749.1 crore versus '9,772.2 crore for the compared period. In the premise of its global expansion, the company had named Sanjay Kapoor as its chief executive for India and South Asia, putting him in charge of shoring up the sagging revenues and profits of the country's largest telecom firm and leaving the then incumbent ManojKohli free to spearhead the company's aggressive global play.
Bharti: Pain Areas
Financial Over-exposure: With entry to Africa and on account of 3G and BWA license acquisition, Bharti is over exposed financially. It had taken a loan of $8 bn from a consortium of banks led by Standard Chartered bank for Zain acquisition worth $10.7 bn. As of December 31, 2011, BhartiAirtel has a net debt of $12.72 bin which impacting Bharti'sbottomline.
Leadership Crisis: The firm that was held as an example for its leadership qualities a couple of years back is suddenly felt to be in the middle of a leadership crisis. The dynamism of Sunil Mittal is being missed. The dynamism, man-management qualities and technical skills of Kohli are being missed in a big way. Experts believe, that the leadership focus has somewhat shifted to Africa, leaving India vulnerable to losing market share. Even Bharti has not been able to come to terms with restructuring even after 7 months. The confidence and the visibility of the top management is at the lowest.
Lack of Innovation: Bharti was the first company to take up outsourcing as a strategic business model in network, IT, call centers, and saw huge success. Now, industry watchers believe in the new game that has to be dominated by data centric services, where Bharti lacks innovation. Analysts believe the firm is swapping quality with cost by not tying up with innovative partners but with low cost counterparts.
Leadership Crisis: Analysts believe Bharti has somewhat missed the bus. The leader has to be a visionary. With changing dynamics in the telecom space and in a difficult economic scenario, one has to adapt to the changing needs. The firm is still approaching the same strategies that it used to have for voice centric business, but data business and enterprise services are different ball games, and Bharti needs to focus in it in a big way
Kapoor, the deputy CEO of the company then, was elevated from April 1, 2010. Kohli, chief executive and joint MD of Indian operations, moved on to head Bharti's newly-created international business division. The Zain acquisition was completed in June 2010. For the June quarter, the company posted a net income of '1,681.6 crore compared to '2,055 core, a dip of more than 18%. The next quarter was no better.
Net income dipped to '1,661 crore, the third quarter net again slumped to '1,303.3 crore. In the fourth quarter ended March 2011, Bharti posted a lower-than-expected consolidated net income of '1,400.7 crore down 31.48% vis-a-vis the same period last year on account of higher cash outflow for its African operations. For the full year, BhartiAirtel's net profit was down 32.64% at '6,046.7 crore, compared to '8,976.8 crore in FY10.
"The net income, at '6,047 crore, declined by 32.6% from '8,977 crore in the previous year due to increase in net interest outgo ('1,480 crore), forex re-statement losses ('683 crore), re-branding expenses ('340 crore) and increase in spectrum charges in India ('265 crore)," the company said.
However, the total revenue for FY11 stood at '59,467 crore, as against '41,847 crore in FY10, up 42.1%.
The story was no better for Bharti in the next new fiscal. In Q1 of 2012, Bharti's net profit again dipped nearly 28% to '1,215.2 crore in the quarter ended June 30 compared to '1,400.7 crore in the previous quarter and '1,681.6 crore in the year-ago quarter.
The result also showed that, having consistently lost revenue market share over the last two years, Bhartiairtel has now gained back some lost ground. The country's largest mobile services operator, by revenue and subscriber base, clocked a revenue market share of 30.8 % of the Indian telecom market-a gain of 60 basis points (0.6%) during the April- June quarter against the three months ended March 2011.
However, the data released by telecom industry regulator, Trai, also suggests that Bharti slipped on a y-o-y basis. This market share gain for Bharti comes on the back of the operator restructuring its operations in India and South Asia after a continuous decline in its profits.
During this period Bharti took an industry defying measure. It became the first operator to increase call tariffs by about 20% in June, a move that was immediately followed by other leading players. This hike, a bold move by airtel, was intended to address declining profitability in a cut-throat Indian telecom industry, said experts.
An airtel spokesperson said that the telco expects the recent hike in tariffs to have a positive impact on its revenues and that the company will wait for the next few months to determine its precise financial implications. In Q2, 2012 Bharti reported a bigger-than-expected 38.17% fall in quarterly profit bringing its consolidated net profit down to '1,027 crore, hit by higher interest costs and foreign exchange losses worth '239 crore.
This is the seventh straight quarter in which Bhartiairtel has reported a consecutive decline in its net profit. Bhartiairtel said that the rollout of its 3G network resulted in a higher amortization cost of '164 crore for the quarter, while its net interest cost rose to '115 crore during the reporting period. For Q3 again, Bharti reported a net profit of '1,011 crore, down 22% over the same quarter last year.
The telco reported a net profit of '1,303 crore in the same quarter in the last fiscal. This time, the drop has been attributed to higher tax provisioning in the quarter. The tax rate was at 32.5% during the quarter.
And this trend is not prevalent only in Bharti's mobile services, the firm's telemedia services that includes its broadband and fixedline offerings also depicts the same story. The growth of telemedia business has been flat in the compared periods.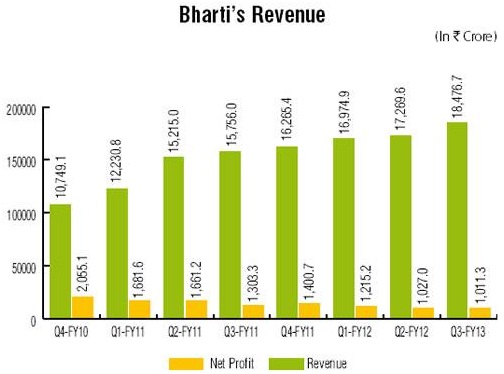 User Base
It's not that the company so far has overlooked the pain. More than anybody else outside, the company itself has been feeling the heat, and it has been taking various corrective measures to maintain an equilibrium. Bharti seems to be getting more aggressive in acquiring new subscribers, going by the telecom industry's subscriber addition figures for the month of January. It added 1.3 mn subscribers last month, after four successive months of relatively sluggish subscriber addition figures of less than 1 mn.
Between September and December 2011, the monthly average subscriber addition figures for the company stood at 0.95 mn, accounting for less than 14% of the monthly average subscriber addition of 6.97 mn for the industry.
The company's share of the total subscriber base is the highest in the country at around 28% during this period, indicating that its smaller competitors were adding new subscribers at a much faster pace. To some extent, the subscriber addition numbers are irrelevant. What matters more is the active subscriber base, a metric that is released by the government periodically, and the revenue market share of telecom companies.
It became evident after the December quarter results season that Bharti is losing even revenue market share because of the sluggish trend in new subscriber additions. The company chose to stick to the tariff hikes it took in mid-2011, at a time when companies such as Idea Cellular were being flexible with their pricing strategies in order to attract new customers.
Data released by Trai last month shows that Bharti's revenue market share has declined by 110 basis points in the past two quarters to 29.7%. Vodafone India, Unitech Wireless (Uninor), and Idea Cellular gained at the market leader's expense, increasing market share by 71, 66, and 52 basis points, respectively.
Last Restructuring
Following a sharp drop in revenues, Bharti in August last year had announced restructuring of its Indian and South Asian operations to streamline its businesses and reduce costs. The key executive of the global consultancy firm said that Bharti was advised in the beginning of 2011 for a restructuring and was suggested a two-pronged approach. One, to consolidate the business units, and two, to restructure the top management. The August transformed organization structure now have two distinct Customer Business Units (CBUs) with clear focus on B2C (business to customer) and B2B (business to business) segments.
The company's B2C business unit will service the retail consumers, homes and small offices by combining the erstwhile business units-mobile, telemedia, digital TV, and other emerging businesses (like m-commerce, m-health, m-advertising), the company said.
The B2C organization will consist of consumer business and market operations. The consumer business group will lead the overall B2C strategy and will focus on customer experience, product and service innovation, and build an ecosystem around the B2C services.
What Bharti Needs To Do
Restructuring not aligning with company goals: Following a sharp drop in revenues, Bharti in August last year had announced restructuring of its Indian and South Asian operations to streamline its businesses and reduce costs. However, industry trackers feel the restructuring was not in line the company's goal. Also, this restructuring has gathered some mixed responses among the employees. Though its not always possible to satisfy everyone in a business decision, two key members of the company were the most dissatisfied. One of them was made a part of the team that he used to lead. "Its like asking the captain to be a team member," the Bharti executive said on condition of not to be quoted. He also said that he is mulling quitting the firm to pursue other interests. A senior executive of one of Bharti's oldest networking partner said that there is a strong need of a dynamic leader in bharti to look at India operations. "Bhartican not ignore India, and if the case may require, it needs to bring back ManojKohli," he added.
Take lead in 3G and BWA services: Its almost two years since Bharti got the 3G license but the uptake has been poor so far and ARPU is up to the marks. Again, the lack of innovation in offering 3G services, both in terms of tariff and attractive applications, rendered the firm with just 2 million 3G subscribers. It has also acquired BWA license to offer services in 6 circles but the company is yet to launch service. Though none of the BWA license holders have launched the service so far, to take the first mover advantage and retain your potent customers Bharti has to take the lead in launching the service and bring a new revenue stream. Also, the firm has to comeup with innovative models to launch the 4G services so that it does not go the 3G way. It should have quality offerings and need to focus on enterprise customers and consumers equally to take the lead.
Data revenue need to be increased: In order to be back in the game, the rules of the game has to be changed. The voice market in India is almost saturated with around 80% teledensity and call tariff at abysmally low. The opportunity now is with data services and the data driven business is at infancy now. A leader like Bharti has to tap this opportunity with lots of innovative business models and within no time. Though the company has started focusing enterprise services in a big way, it has no differentiators than its competitors. Though everyone is taking about cloud services and the SMEs are the most potent customers of this, Bhartihas yet to have dedicated cloud services to cater to the 5 million strong SMEs in India.
Traction in M-commerce and M-banking/M-health: Bharti has more than 175 million mobile subscribers and India has more than 700 million population without exposure to banking facilities. But these people have mobile phones. Though Bharti has started offering mobile money services of late, the firm has to take lead in simplifying the service and take the lead in it to reap the benefits.
Though Bharti's sluggish growth has become a huge area of concern, there is no denying that so far its the market leader and commands a market share of around 30% in a 14-operator market. The company's last few quarter results were also affected due to the huge cash outflow for its international operations and on account of 3G & BWA license acquisition. But experts believe, overlooking all dampening factors, the firm needs to aggressively look at changing its business strategies. "There was nothing wrong with Bharti at this stage, but the times have changed and the firm has to respond accordingly," Trivedi of Monk Consulting suggests.
Source:Voice&data (http://www.voicendata.com/voice-data/news/167843/bharti-airtel-strategy-gone-sour)