A 900 mn strong mobile community in India is moving beyond traditional use of voice and text into more abstract domains of utility applications. Mobile reach remains unmatched, cutting across states, age groups, communities, and economic strata. Mobiles have redefined the life in general. More and more processes are becoming mobile enabled, including commerce. Affordability, reach, and convenience make mobile the first choice of delivery.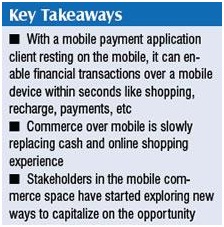 Business Models
Financial institutions face steep learning curves, as they deploy Mobile Based Financial Services (MBFS) delivery mechanism:
New Business Models: A variety of approaches available and evolving
The business model where the mobile operator acts as a bearer
The second group of business models, where mobile operators become agents of remittance providers and financial institutions
The third business models where the mobile operator becomes a financial institution
Fourth Business Model: Collaboration among and between old and new stakeholders
Data, devices, and services are driving the ecosystem:
Data-enabled devices constitute approx 70-80% of the installed base
Young, savvy, literate population willing to spend (more than 60% population under 35)
Increasing spending power of people at the bottom of the pyramid and in the rural areas emergence of m-commerce has brought commercial space on the handsets of mobile subscribers and enabled a virtual-shopping experience. With a mobile payment application client resting on the mobile, (may or may not be connected with the bank server in the backend) can enable financial transactions over a mobile device within seconds like shopping, recharge, payments, etc.
Expectation from MBFS:
Three of the most important ones are:
Convenience :And value for money
Flexibility:Freedom to choose (service provider, banks, devices, etc)
Interoperability:Seamless experience across platforms
Initiatives of RBI
India being a cash economy involves a lot of management and remittance cost. The need for low-cost financial instrument coupled with rapid growth of mobile penetration leads to the prospect of a growing market for mobile payments/commerce/financial service.
The Reserve Bank of India (RBI) now allows telcos, banks, and independent payment service providers to move out of traditional bank account linked mobile banking services and move to 'semi-open' wallets. This initiative by RBI will make way for mobile as wallets and payment method in future.
The RBI has also mandated banks to become members of National Payment Corporation of India (NPCI) to facilitate their account holders with mobile transaction facility.
These policies have supported the growing number of registrations of mobile banking user with NPCI leading a 100% increase in no of mobile transactions year on year. While mobile banking registrations have gone up more than 1,000% for some banks (eg, SBI). However the transaction percent as compared to registration is a mere 1%, but shows the way forward for MBFS/m-commerce.
Commerce over mobile is slowly replacing cash and online shopping experience. The stakeholders in the mobile commerce space have started exploring new ways to capitalize the opportunity, which presents a lot of scope for new innovations in the areas of enabling mobile devices to carry out financial transactions.
Recent Innovations
Some of the very recent initiatives in the mobile commerce have been use of Near Field Communications (NFC) on smartphones and Mobile Wallets. The NFC-chip-enabled smartphones that store the information of the bank account or bank accounts/credit cards of an individual and prompts payment as and when tapped from a specified bank account/credit card over the NFC terminal. Also services like Mobile Wallet by airtel enables an individual to recharge the mobile device and keep it as a virtual wallet for payments and even fund transfers to another mobile number.
Services like virtual malls using mobile (eg, Active Posters: Tata DOCOMO & XIUS: offering 18 services-recharge, value added services, downloads, etc) at any customer-gathering point. Services can be availed by tapping phones on these terminals. The technology addresses the mobile operator's desire to increase its retail points of presence, provides self-service to more non-traditional top-up, other VAS points such as coffee shops, etc.
Securing the Financial Data
Besides these initiatives, banks have also started collaborating with Mobile Payment Application (MPA) providers (eg, NG-Pay, mChek, and mPay) to enable m-commerce. MPA is password-protected client, on mobile device with bank account details. The MPA providers are bringing merchant outlets on their network to enable mobile payments.
Mobile will make financial inclusion more cost-effective and timely. Industry estimates favor mobile as the most effective way for remittance for most of the financial services including G2C services. The adoption of business correspondent model (eg, HDFC & Vodafone, SBI, airtel, etc) using mobile to expand financial services to unbanked/underbanked has already started to bear results in its early stage.
Services like withdrawal of cash from ATM (IndusInd Bank) using mobile and utility payments using NFC-technology-enabled handset (Nokia and Paymate tie-up for Delhi metro, toll taxes, etc) will further the case of financial services over mobile. Nokia has deployed NFC chips with unique content across almost 1,000 Nokia outlets in the country.
However few questions still remain unanswered:
Need for scalable solutions
Role of stakeholders
Identifying the right partners
Developing appropriate business models
Investing into the right infrastructure
Various mobile based financial services business models are evolving and banks as well as operators will continue to play large roles. However education, information, and handholding a customer will be required before m-commerce or MBFS goes mainstream.
GirishTrivedi and PreetiMahawar
The authors are co-founder & director and
consulting analyst, Monk Consulting, respectively
vadmail@cybermedia.co.in